Trevian and Agore sign the global electric car giant to their property in Oulu
The world's largest electric car manufacturer has expanded its operations in Finland to the north, opening a Center in Oulu's Limingantulli, in a property managed by Trevian Asset Management and owned by Agore Kiinteistöt. With the green transition, the number of electric cars is increasing significantly in Finland, and adding an industry player to the customer base is firmly in line with Agore's and Trevian's sustainability goals.
The American electric car giant Tesla's new Center in Oulu is located in Agore's and Trevian's property and is the northernmost in Finland. The company invests in Finland through new geographic locations, of which the Oulu site is the most recent.
"The new Tesla Center will bring more opportunities supporting the green transition to the Oulu region. We warmly welcome Tesla to its new location in the north", says Jussi Mattila, Trevian's asset manager responsible for sites in the Oulu region.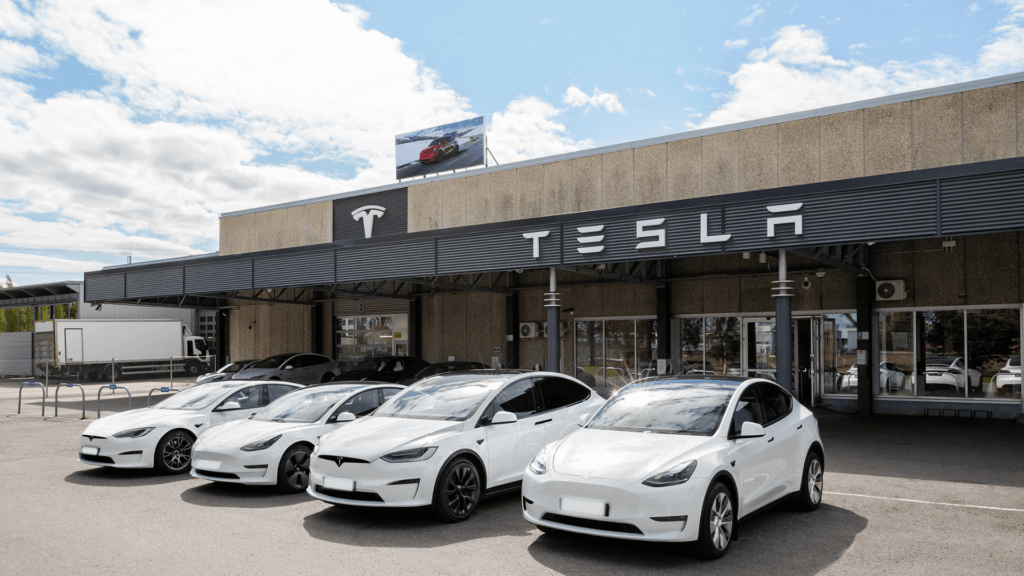 Sales of electric cars have grown considerably throughout Finland. According to the Finnish Transport and Communications Agency Trafi, the number of electric cars in traffic increased by 95.8 percent in 2022 compared to the previous year. According to statistics, Tesla's Model Y is Finland's most common electric car, with over 14,500 Teslas on Finnish roads. The growing trend of electric cars indicates that the electrification of motoring is an essential part of the road towards carbon neutrality.
Emphasizing sustainability has become a growing focus in the property assets managed by Agore and Trevian. According to Agore's most recent sustainability report, the share of renewable energy in the energy consumption of its properties in 2022 was 81.8%. Agore also achieved a 56.6% (1323.7 t CO2) reduction in carbon footprint during 2022.
"Having Tesla as a tenant is a welcome part of the continuum towards sustainable development and environmental consciousness. An operator like Tesla in our properties strongly supports these goals. Sustainable development is fully integrated into Trevian's and Agore's general business strategy, where ESG themes play a key role", says Trevian's portfolio manager Anni Tenhunen.
The new Tesla Center in Oulu includes a showroom with test drive opportunities for Tesla's S3XY collection, a large service area, and soon customer car deliveries. Tesla invests heavily in Finland by opening two new Tesla Centers: After Oulu, the doors will soon open in Turku. Together with the Mobile Service and the two existing Tesla Centers in Vantaa and Lempäälä, the growth is part of Tesla's commitment to excellent service in Finland.
Tesla's service capacity in Finland has doubled in the past year with the increase of new employees and Mobile Service technicians. Mobile Service currently performs more than 40 percent of all maintenance work in Finland outside of Tesla Centers in various parts of Finland. 14 Mobile Service technicians come to the customer, where the car is parked at home or the workplace.
---
Trevian Asset Management is a Finnish investment and asset management company specializing in commercial and residential properties. The company was established in 2012 and is owned by its key personnel. The company produces actively managed real estate equity funds and asset management services optimized for its customers. The services are focused especially for institutional real estate investors, banks, and other professional investors. Trevian's assets under management near 1.0B€. www.trevian.fi/en/

Agore Properties was founded in 2017 and is a fully Nordic-owned real estate investment company. The Agore portfolio currently consists of properties in 8 cities around Finland. The total value of the portfolio is approximately EUR 200 million. Agore is committed to responsible real estate business and targets quality and sustainability in the development of its own operations. Close local collaboration is a hallmark of Agore activities, contributing to the goal of keeping city centers lively and vibrant. www.agore.fi/en/agore