200-year-old Wuorio House transformed into modern premises
Trevian Asset Management has coordinated the extension and renovations of the 200-year-old Wuorio House property located in the heart of Helsinki at Unioninkatu 30. The first tenants have now been published. Kiinteistömaailma Oy, Frontia Attorneys at Law Ltd, DKCO Attorneys at Law and a new restaurant by chef Kristian Vuojärvi will move to the historical building in April 2020.
Wuorio House has seen many renovations and changes during its history, which makes the building so unique and the visions of many well-known architects can be seen on the building. Wuorio House was built during 1830s and first changes came as early as during 1880s, when architect Theodor Höijer designed some modifications to the original building. The neo-renaissance facade was designed by arcitecht Waldemar Aspelin at the end of the century.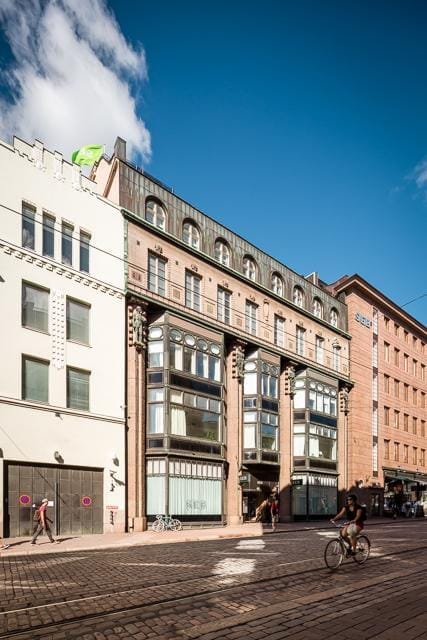 Wuorio House was named after decorative painter Salomo Wuorio, who modernised the building together with architect Herman Gesellius during the early years of 20th century. Gesellius' works are a prominent feature of Helsinki – besides Wuorio House, he designed the Pohjola Insurance building and the National Museum. After Gesellius passed away, Wuorio ordered an extension of Wuorio House from arcitecht Armas Lindgren. Now, Wuorio House will once again be transformed as the property is undergoing renovations. Modern office and retail spaces will be ready for new tenants in April 2020.
New tenants value location and historical atmosphere
Wuorio House is located in the heart of Helsinki – tenants will have a spectacular view over the city centre. Kiinteistömaailma Ltd will move its headquarters to the second floor of Wuorio House. Frontia Attorneys at Law Ltd will have its offices on the fifth floor and DKCO Attorneys at Law will move to the third floor. Chef Kristian Vuojärvi's new restaurant will open its doors on the first floor of the 200-year-old building. The new tenants value the central location, historical atmosphere and modern, high quality offices that Wuorio House offers.
Wuorio House is owned by a foreign investor's fund. The collaboration between Trevian Asset Management and the investor is a part of Trevian's 7-year period of growth. "We've been busy with the leasing of Wuorio House during this fall. There are still a few office spaces available for lease. Office spaces in this valuable property seem to have sparked the interest of potential tenants", says Lena Schreiber from Trevian.
More information:
Lena Schreiber
Asset Manager
Trevian Asset Management Oy
050 350 5981
lena.schreiber@trevian.fi
Daniel Tuori
Marketing and Communications Director
Trevian Asset Management Oy
050 310 0731
daniel.tuori@trevian.fi
Learn more about Wuorio House.